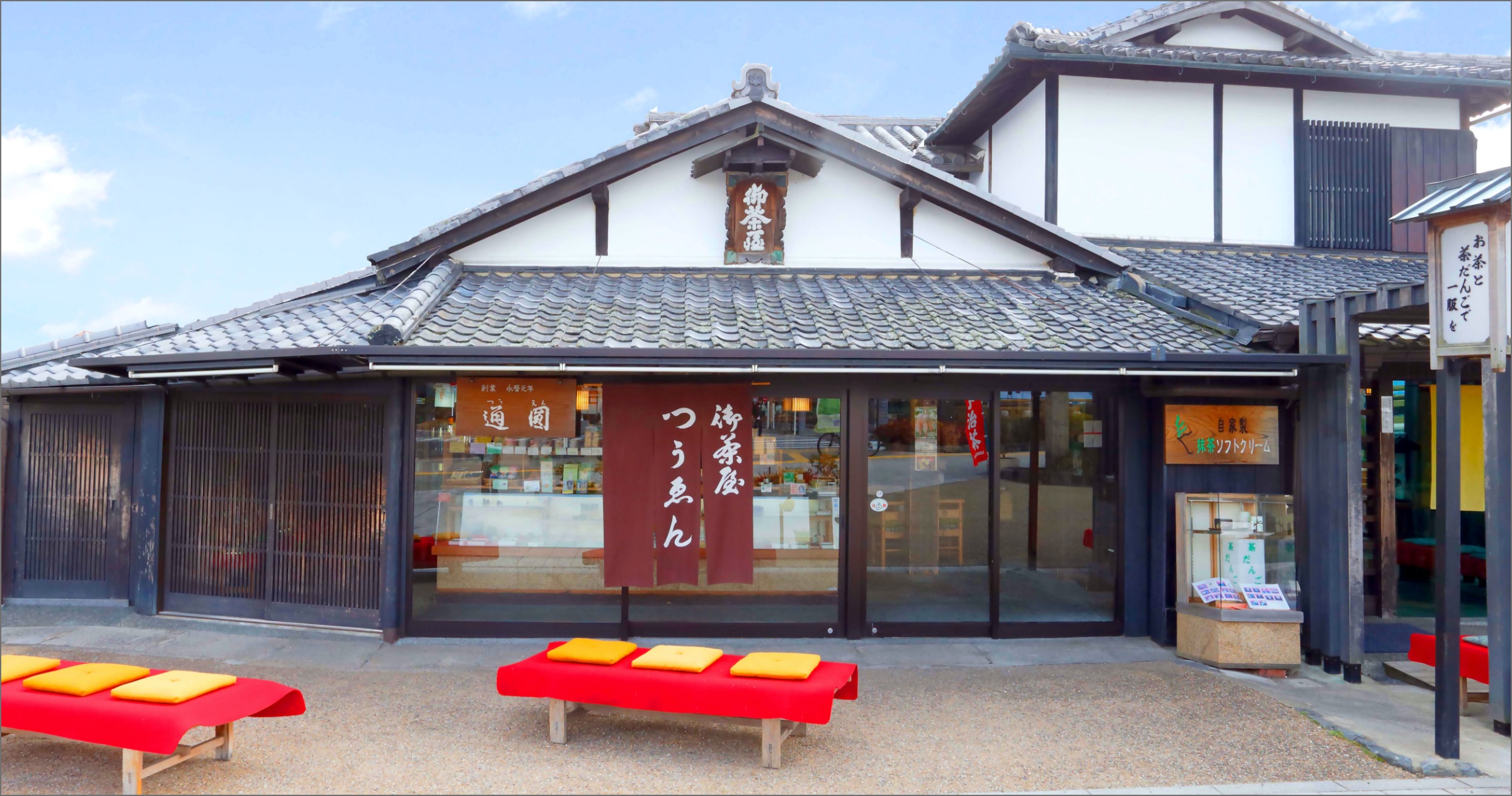 About Tsuen Tea
Tsuen Tea is an independently owned family company established in 1160 C.E. It has operated continuously until today, making it Japan's oldest teashop.
Since its founding, the shop has stood at the eastern end of the historic Uji Bridge in Uji, Kyoto. The current building remains nearly unchanged since it was built in 1673, and is the most recent in a series of shops owned by the Tsuen family on the same site since the year 1160. Today's Tsuen teashop's traditional interior is defined by an exquisite collection of antique tea jars, a traditional kitchen well, low ceilings and exposed beams. Over the last nine centuries, there have been many connections and references to the Tsuen family and teashop in traditional Japanese art, literature, theatre, ceremonies, and festivals.
KYOGEN "TSUEN"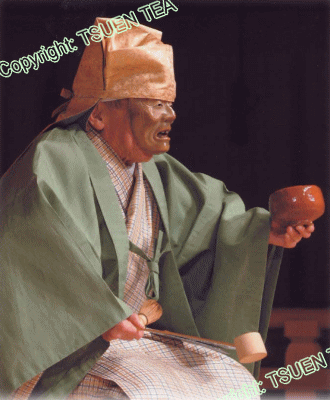 In 1160, the first ancestor of Tsuen family, Furukawa Unai, was a samurai who worked for Minamoto Yorimasa. Furukawa retired, then changed his name to "Taikeian Tsuen Masahisa"
Taikeian is the name of building where Zen monks or other people go when they are trying to achieve enlightenment. Usually they change their name to "xoxan".
"Tsuen" means Tsu – way or path and En means circle, round, or calm and En is a word from Zen. When a person gets older they have a better understanding of life so they don't get upset as easily as they once did.
Anger is usually pictured as spiky or square shaped and round or circular shaped is pictured as happiness, calm, and relaxed. Tsuen means the path of the circle feeling. One often sees the picture of EN in Zen Art.
Products
Sencha Tea Bag

2g x 10

Genmaicha Tea Bag

3g x 10

100g Loose Tea (Craft Color Stand Bag)

Left: Karigane
Middle : Sencha
Right: Genmaicha
30g Premium Matcha

Matcha

Left:Matcha Premium 30g Tin Can
Right : Culinary Matcha 100g Bag

Hojicha

200g Hojicha Loose Tea
100g Hojicha Powder (Culinary Use)
MATCHA

The most famous and oldest type of tea in Japan. Well known for its use in tea ceremony. A shaded tea, tencha is dried, and later stone milled into mattcha. It takes 1 hour to create 30g or 1 oz of mattcha. This tea can also be whisked in icecold water or milk. Water temp.: Boiling.
Steep time: Whisk immediately.

SENCHA

Sencha is the most popular tea consumed in Japan.
Around 80% of tea grown in Japan is designated as sencha. Water temp.: Approx. 80° C.
Steep time: 1 min.
Smooth, Pure, Refreshing Flavour

KARIGANE

Stems from the shaded gyokuro.
Karigane is called "kukicha" in some other regions of Japan. Water temp.: Approx 80° C.
Steep time: 1 min.
Rich, Mellow Flavour Matcha Blended

GENMAICHA

A mix of karigane, sencha and roasted brown rice. Genmaicha also contains puffed sweet rice. Enjoy the fresh grassy flavor of green tea with the toasty aroma of the roasted rice. Water temp.: Boiling.
Steep time: 30 seconds.
Savory Aroma, Harmony of Green Tea and Roasted Brown Rice

HOJICHA

Distinctive from other Japanese green teas because it is roasted in a porcelain pot over charcoal, whereas most Japanese teas are steamed. The tea is fired at a high temperature, altering the leaf tint from green to reddish-brown. The process was first created in Kyoto, Japan in the 1920s. Its popularity persists today. Low caffeine. Water temp.: Boiling.
Steep time: 30 seconds.
Full Bodied Toasty Aroma, Relaxing and Low Caffeine
Shops
The TSUEN TEA SHOP is in Uji, Kyoto, Japan.

TSUEN JAPAN
http://tsuentea.com/

We wholesale to shops in Vancouver, BC, CANADA.
This error message is only visible to WordPress admins
Error: API requests are being delayed for this account. New posts will not be retrieved.
Log in as an administrator and view the Instagram Feed settings page for more details.